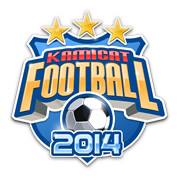 Kamicat Football is a game launched on 7th of May 2012 . Kamicat Football allows you to manage and control your team .You can sell and sign new players . Challenge your friend to make your team better . Lead your team to the top division and lifted the treble to make history .
When you start the game , you will be given a Team . You can customize the kit , the location , and the name of your team . The maximum number of players in a single team is 25 players . You can get players using the Transfer Market . You need to assign the players you are going to use as your player will slowly run out of energy .
You also get a stadium at the start of the game . The stadium is where your team will play during a competition . You can upgrade your stadium so that you can have more capacity . Not only that , you can also increase your stadium category to increase ticket price to earn more SilverCoins .
Transfer Market
Edit
The Transfer Market allows you to sign new players to your team . You can view the transfer market by clicking a 4th button on the left side of the screen . A player with low statistic usually cost around 100,000 to 500,000 SilverCoins while a high statistic player will cause 20 to 300 Kamicash . You can also check the nationality , strong foot and statistic . Your scouts will give you a list of new player that you can sign every 2 weeks .
Ad blocker interference detected!
Wikia is a free-to-use site that makes money from advertising. We have a modified experience for viewers using ad blockers

Wikia is not accessible if you've made further modifications. Remove the custom ad blocker rule(s) and the page will load as expected.