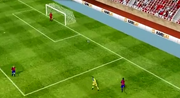 Crossing is a move that can only be used when the player is beside of the penalty box . You can perform a cross by double clicking after a triangular indicator appears .A cross is useful when the keeper left one side of the goal wide open while trying to catch the ball . A header is usually perform after a player cross the ball in front of the goal .
If you're having a contact with a defender , try to move around by dribbling the ball until you have an empty space for you to perform the cross . You can also give your players Dribble Boost or Speed Boost or both of the boost to help give you a high chance of empty space for you to cross .
Ad blocker interference detected!
Wikia is a free-to-use site that makes money from advertising. We have a modified experience for viewers using ad blockers

Wikia is not accessible if you've made further modifications. Remove the custom ad blocker rule(s) and the page will load as expected.